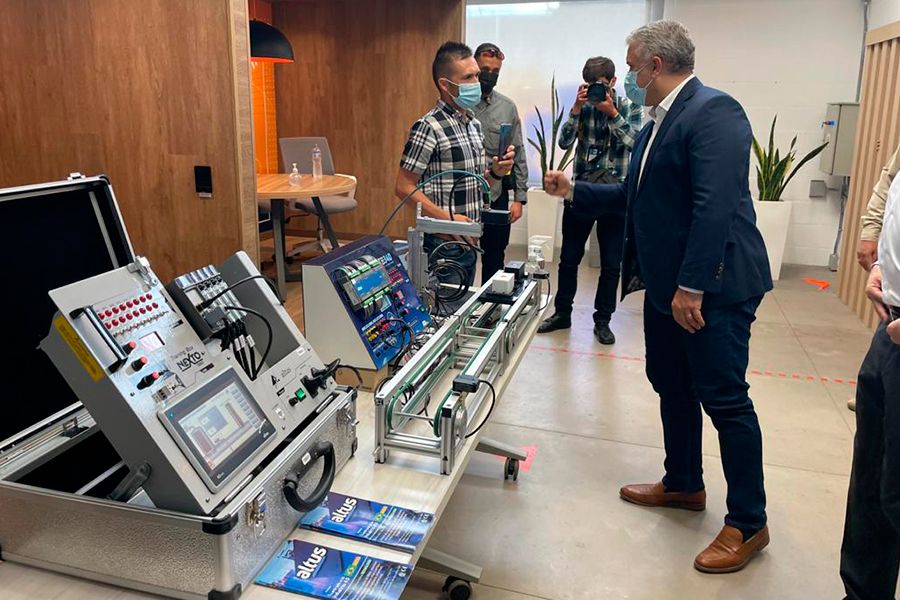 Altus demonstrates a didactic solution at the Innovation Hub 4.0 in Medellín
This week, Altus technology was present at the inauguration of the Innovation Hub 4.0 in Medellín, Colombia. The space, which is managed by SENA, the country`s National Learning Service, aims to strengthen the technical training process for students and apprentices in the region.
During the event, engineers Oswaldo Granada Valencia and Oscar Verá, from Electricas HYG and Electricas Bogotá, Altus partner companies in projects in the local market, were able to demonstrate to the audience all the capabilities of the technology embedded in our products. For that, they used the TB340 and TB801 cases from the Training Box series, our educational solution for use in research laboratories of companies and educational institutions.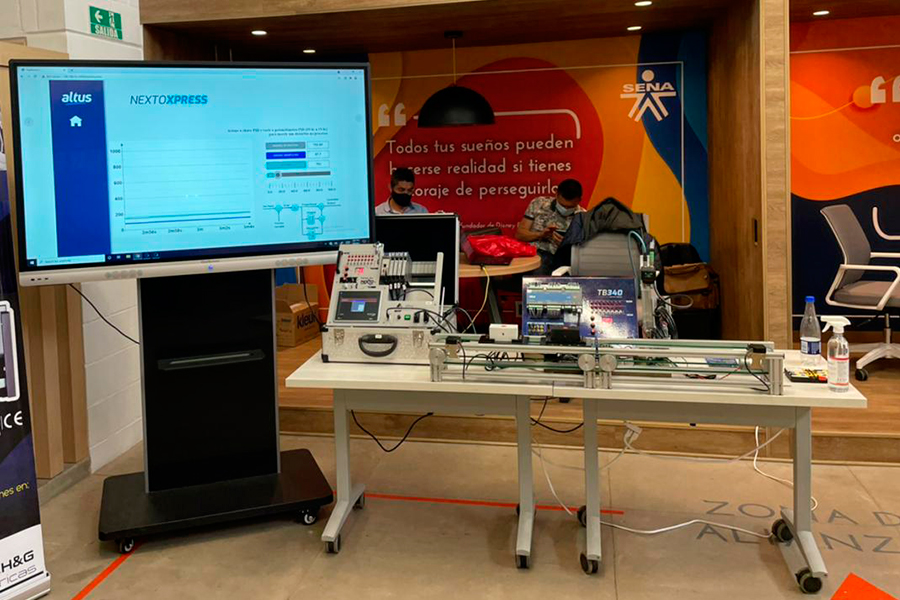 With features that enable you to perform simulations of elements present in the most industrial systems such as building and machine automation, the tool is suitable for reproducing environments with applications that use the new concepts of Industry 4.0 and Internet of Things (IoT). As in the SENA units of Colombia, the equipment is also widely used in different educational institutions in Brazil, such as UFSM university, several different schools as well as in the SENAI units in Minas Gerais and São Paulo states.

The ceremony was also attended by the SENA board, local authorities and even the President of the Republic of Colombia, Iván Duque.

Altus Technology in Colombia
As the third largest economy in South America, the Colombian industrial market is, after Brazil, the main consumer of Altus technology in the region. With extensive investment in the development of new startups, the country has emerged as a new technological hub in Latin America. Present in the country since 2019 through Eléctricas Bogotá, responsible for the distribution of our products in the territory, Altus also contributes to this technological development in Colombia.
Currently, we provide software and hardware solutions for applications in various segments, with emphasis on agribusiness, coffee production units, water and wastewater systems and in the generation, transmission and distribution of power. Nexto Series PLCs, as well as HMIs, industrial switches and SCADA BluePlant software, are also used by systems integration customers and local machine manufacturers.

In addition to our growing presence in the industry, we are also expanding our presence into the Colombian education market. We have participated in lectures and actions to promote Altus technology in the region through partnerships with local universities and with SENA. Through training and technical demonstrations carried out by our team of specialists, we were able to train teachers and students to apply different Industry 4.0 resources available in our products, such as communication with the cloud, connection with IoT devices, reading and writing to a database, among many others.