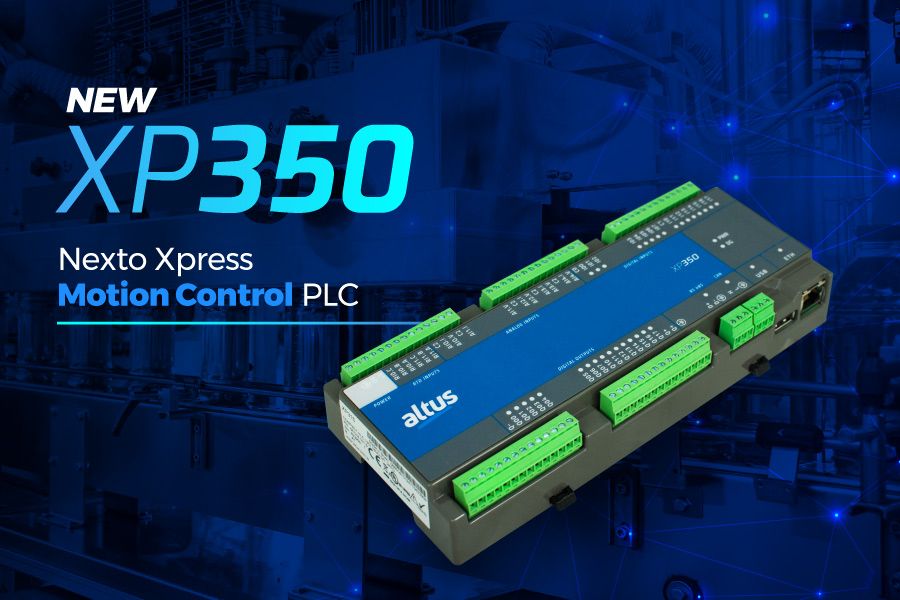 XP350, Nexto Xpress Motion Control PLC
Designed to deliver performance and high connectivity to the most varied industry processes, the Nexto Xpress family has different options of multifunctional programmable controllers prepared to connect your business to the IIoT Universe. Now, to further increase its versatility, the Xpress line gains a new member developed to meet the demands of packaging machines and material assembly lines. Meet the new XP350, the first PLC Motion Control from the Nexto Xpress line.
Click here to access the official landing page and learn more about the Altus new PLC.
The IoT-ready PLC designed for Motion Control demands
Compact and with high processing speed, a trademark of Nexto Xpress controllers, the new PLC IoT-ready XP350 also features high I/O density, fast embedded inputs and outputs, Ethernet and USB interfaces, RS-485 serial port and CANopen Master. Like the other products in the line, the new Xpress unit is mounted on a DIN rail, Real Time Clock (RTC), Data Logger type function block, conformal coating and supports the main communication protocols on the market.

With software based on the CODESYS technological platform, the product has the capacity to interact with different brokers in order to communicate with web service platforms, such as Node-Red, connection with the main cloud hosting services and to write directly in the databases of the SQL type.
Complete solution for precise motion control
Created to add safety and flexibility to machines and processes that demand precise movement control, the new member of the Xpress family is capable of operating in loops with up to 4 motion control axes (X, Y, Z and A). Used in conjunction with Altus` new fast response and high performance servo drivers, the XP350 PLC comprises a complete motion control solution for applications where power, efficiency and precision of movement are essential.
To meet this demand for high precision in machines and processes, the new Altus controller, as well as the servo drivers, supports EtherCAT Master and CANopen, two of the main communication protocols used in the segment. and the PLCopen Motion Control Part 1 library. In addition, it supports PLCopen Motion Control Part 1 function blocks for single-axis command, multi-axis synchronization, electronic gearing (CAME), special editor for planning motions (CAM), among others. others.

Do you want to know more about the new PLC of the Nexto Xpress solution? Click here to access the official landing page of the product, download the technical documentation and receive a contact from our commercial team