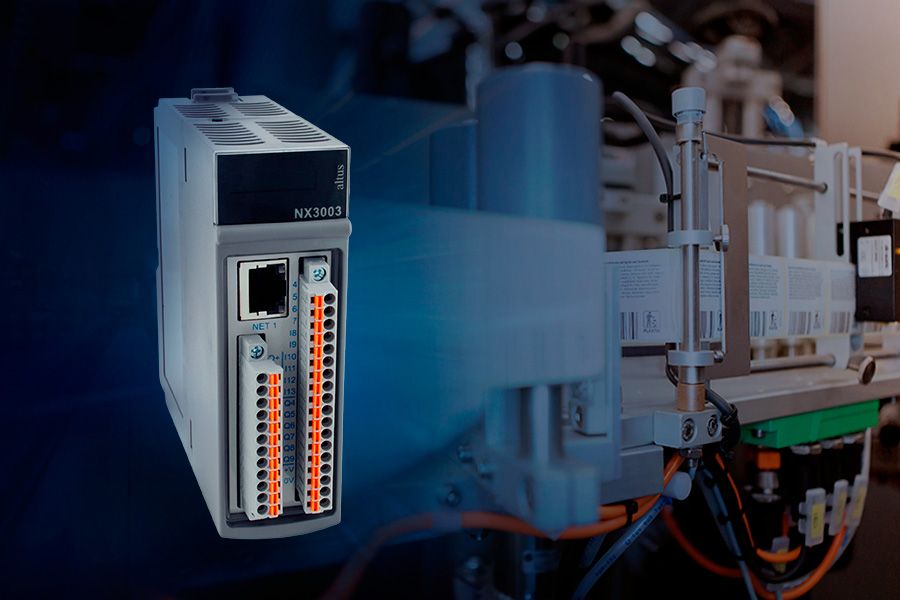 NX3003 CPU: More speed and precision to your machines
11 Jul 2018
Did you know that the NX3003 CPU has features and specifications that make it an ideal solution for machine control? With high performance, the CPU from Nexto Series, our most advanced line of programmable controllers, delivers autonomy and high speed in a compact and cost-effective product. Find out here why Altus processing unit comes as a solution to enhance the performance of your machines and help you expand your business.
The new NX3003 is the first module in the Nexto family to feature a power supply and embedded input and output points. With 14 digital inputs and 10 transistor outputs, 4 fast inputs for encoder reading (unidirectional, bidirectional and quadrature) and 4 fast outputs for stepper motor control (PTO / PWM), the model can be used in pressing, labeling, packaging applications and other processes that demand high positioning accuracy. Its ability to read and process variables is also a differential that contributes to giving more assertiveness in the control of speed, pressure, direction, among other references.
Look at the following video example of 220 EC, a thermoformer machine manufactured by Selovac, one of our traditional customers in the machinery segment. In the implemented architecture, the fast counter embedded in the PLC monitors the number of pulses transmitted by an encoder to carry out the packaging process with extreme precision:
Another outstanding feature found in the CPU is its response time, extremely fast in relation to the solutions currently available on the market. While most PLCs used for machine control execute instructions every 100 ns (nanoseconds), the NX3003 is capable of executing addition, multiplication and subtraction instructions in less than 15 ns for integer values and 1000 PID loops in about 4 ms (milliseconds). These exceptional numbers allow the unit to be used in applications that require a high-speed architecture, such as blowers, injectors and packers.

In addition to having all these features and enabling various applications, the NX3003 is a compact CPU that occupies a small space on the machine. As it has an embedded power supply as well as input and output points, the model eliminates the need for additional power and communication modules, significantly reducing investment. The unit can be applied as a single control equipment in microarchitectures. By putting together the CPU with the NX9020 two position panel, you will have a complete control solution for your machine in a very small space - 55 (W) x 119 (H) x 133 (D) mm.