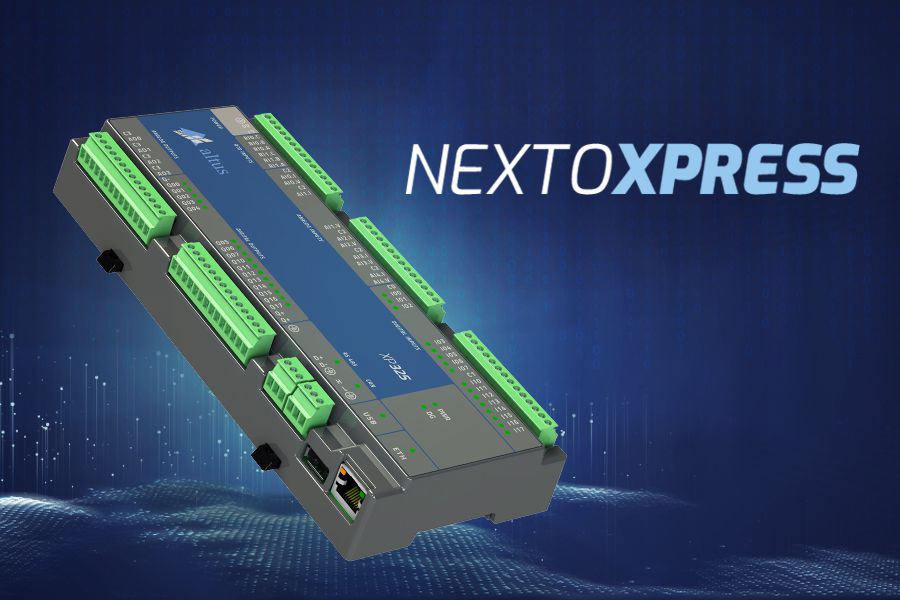 Nexto Xpress: your gateway to Industry 4.0
04 Set 2018
Everyone has a relative that is a bit different, but is as loved as any other member of the Family, right?! In Nexto Family, it could not be different. After releasing a group of modular products, Altus most advanced programmable controllers series now welcomes with open arms Nexto Xpress, first monoblock with embedded I/O of the series. Designed for the machines and small processes markets, the new platform comes as a complete solution for most modern applications, delivering performance and high connectivity with excellent cost-effectiveness for Industry 4.0 demands. 
The new member of Nexto`s dynasty brings three model options that differentiate themselves in the number of points and communication ports: XP300, XP315 and XP325. All of them count on 16 digital inputs and 16 digital outputs, an Ethernet port and a standard serial RS-485, thus, the XP315 version features 2 RTD analog inputs with 2 and 3 wires and 5 analog inputs for voltage and current. The XP325 itself, top model, count on all these futures with the addition of 4 analog outputs and Master CANOpen type connection. 
Created to operate on IoT universe
Projected to meet the demands of highly connected environments, the solution counts on support of a variety of communication protocols, which enables it to interact with smart devices, such as media converters, bar code readers, wireless communication modems and data storage devices. In addition to protocols based on Ethernet, such as Client/Server MODBUS TCP, OPC DA and OPC UA, Xpress products also count on USB communication interface and MODBUS RTU and CANOpen standards. 
Perfect for small applications
With compact design (212,5 x 90,1 x 32,2 mm) and 24 Vdc power supply, the Xpress solution is ideal for the embedded control of machines and small size applications. Its ARM 32 Bit processor, combined with Real Time Clock (RTC), high density of multiple purpose (tension, current and RTD) digital and analog I/O, give the solution an elevated processing capability, accuracy and agility on data acquisition. These features, position the equipment as a perfect solution to give more speed and savings on control of most machines in the market, such as labelers, blowers, washers, injectors, baggers, grinders, presses, and other. 
The series products also feature digital outputs with support to up to 1.5 A per channel (8A maximum) and analog inputs with only one millisecond update time, one of the fastest in the market. This profusion of features give the platform the capacity to control bigger systems, such as the ones found in Building Automation and Sanitation. The accuracy of variable controls enable Nexto Xpress to act both in pumping stations and reservoir level control, or control of illumination and climate, processes supervision, transporters and access control.
Inherited features 

As well as the other members of Nexto Family, the Xpress equipment operate through CODESYS technological platform and are configured via MasterTool IEC XE, FREE programming software of the series with scalability for micro and large projects. The equipment also offer LEDs for status and diagnostics indication, DIN rail assembling and terminal blocks. 
Would you like to know more about Nexto Series solution and find out how it could bring your and your customer`s business into Industry 4.0 reality? Click here and get in touch with our commercial team!