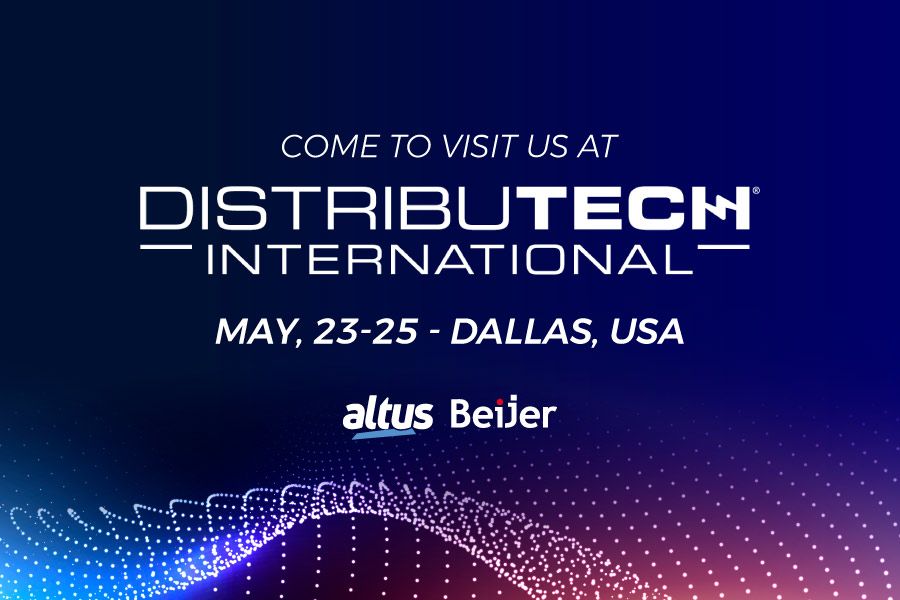 Altus and Beijer attend to the Distributech 2022
19 Mai 2022
2022 has barely started and Altus is already on the road searching for new challenges and a greater international presence! To strengthen the brand`s visibility in the North American market, between May 23rd and 25th the company will be in Dallas, in the United States, attending to the Distributech Conference & Exhibition, one of the most important trade fair of the electrical sector. In its third consecutive participation, the company returns to the event to present its innovations in control and connectivity for IoT applications.

This year, the main highlight will be the novelties designed for the Nexto Series of PLCs, products used in the Brazilian main hydroelectric plants. With high processing speed, advanced real-time diagnostics and support for network redundancy, Nexto programmable controllers deliver security and high availability. The products can be used in the acquisition and transmission of signals between the generating units and other devices that are part of the application.
In addition to the rugged Nexto Series products, the company will also present the Nexto Xpress IoT ready PLC solution. With different embedded communication interfaces and support for a wide variety of communication protocols, Altus compact controllers can be used as IoT gateways for small applications. Among its many 4.0 functionalities, Xpress products can, for example, collect production data from a field application through a MODBUS TCP network and send it via OPC UA or MQTT to a supervisory system hosted in the cloud.
Altus, Beijer and the North American market
This year, in addition to interacting with Altus specialists and learning about the news regarding its products, visitors who pass by the company`s booth will also be able to talk to Beijer Electronics` business engineers. Main partner in the foreign market, the company applies and distributes Altus programmable controller technology in different countries from Europe, Asia and North America. In order to enhance and strengthen this relationship, which has lasted nearly 15 years, specialists from the company`s North American unit were invited to share Altus` space at the fair.
Attending to Distributech is part of Altus` international expansion plan. With UL and cUL certification, Nexto family products comply with the safety standards of Underwriters Laboratories. These certifications are a mandatory requirement for the equipment to be exported to the United States and Canada, which allows the company to explore the northern hemisphere and reinforces Nexto`s concept as a world-class product.
So if you plan to be around the Dallas area between May 23rd and 25th, take a moment in to visit Altus space at Distributech 2022. 
The event will take place at the Kay Bailey Hutchison Convention Center in Dallas, Texas, and Altus space will be at the booth 10 of the Brazilian Pavilion.