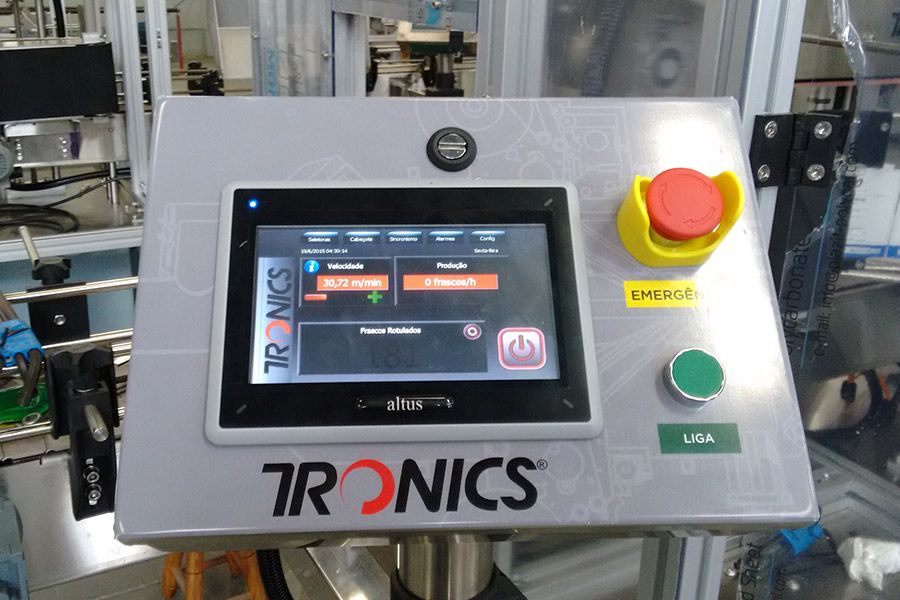 New labelers from a machine manufacturer operate with Altus technology and engineering
02 Abr 2019
In addition to having high technology embedded in all of our product series, customers who choose Altus solutions also have a differentiated service for the development and optimization of their applications. The expertise of our team of engineers, developed during our more than 35 years of experience, is the differential that can help you get the most out of your machine, increasing the productivity of your customers and strengthening your brand in the market. Recently, a customer specialized in the manufacture of equipment for self-adhesive packaging and labeling, used this engineering intelligence to launch its new line of double head labelers.
The machines, developed in a co-creation initiative between the customer and our OEM Commercial team, are responsible for the labeling of lubricate oil bottles. To meet the requirements of the manufacturer, who was looking for a solution to quadruple the performance of their products, our OEM team used the Nexto Xpress technology, a compact PLC with embedded I/O from Nexto family. The high speed of the products, which execute 1,000 Boolean instructions every 6 microseconds, 14 times faster than the market average in this category, was essential for the machine to achieve the expected performance. With the new architecture, the labelers had a great speed increase in their belts, going from 10 to 40 meters per minute, which allowed them to reach a production volume of up to 12 thousand bottles per hour with millimetric positioning accuracy.
Quality and availability are also differentials of this new line. In order to avoid production halts due to the replacement of adhesives, the labelers have two coils of labels at each end: while one is operating, the other is on standby waiting to be activated by the PLC - which happens automatically at the end of each coil. The labelers also have a rigorous validation routine that evaluates the units produced and discards those that do not meet the expected quality standards. These improvements brought more efficiency and reduction of costs to the manufacturer, who will use Altus technology in more applications in the near future.