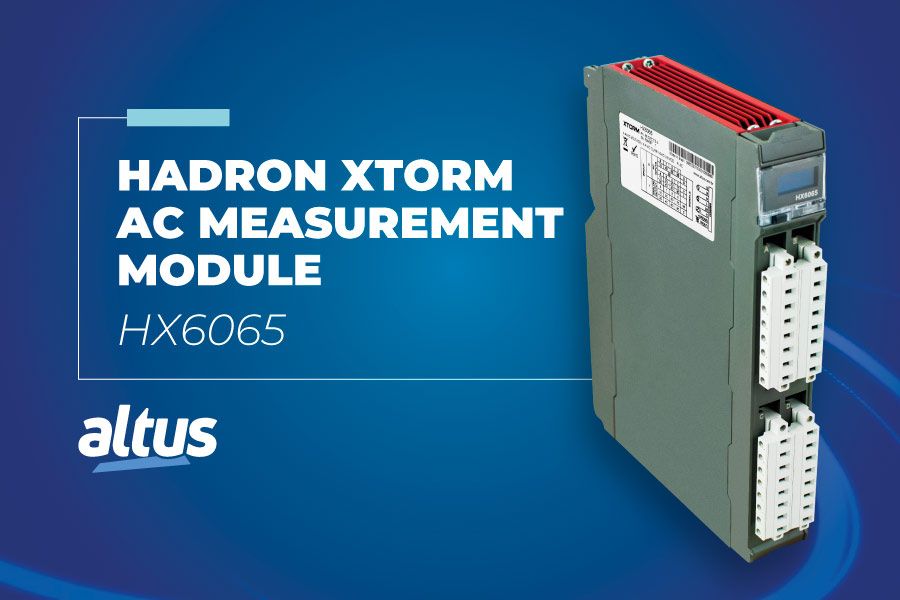 Meet HX6065, the new AC measurement module from Hadron Xtorm Series
2021 has barely started and Altus already has a fresh novelty to present. Designed to meet international standards IEC 61850 and IEC 61131-3, the Hadron Xtorm Series Remote Terminal Units guarantee availability and stability for Electric Power applications. With an extensive history of use in Generation, Transmission and Distribution projects, the family now gains a new member to give more flexibility to the measurement and regulation of quantities.
Meet HX6065, a mixed module for AC measurement and 4 analog voltage and current outputs from Altus. The equipment has 3 AC voltage measurement inputs, 1 additional AC voltage input for synchronism and 4 AC current measurement inputs. In addition to these measurement resources, the product developed by the specialists of our R&D team also has 4 analog outputs for use in control demands that can be individually configured, via software, as voltage or current outputs at different scales.
Why you should use the HX6065 mixed module?
The new mixed HX6065 module allows the connection of potential transformers (TP) and current transformers (TC) directly to a Hadron Xtorm rack, eliminating the use of signal converters. This feature is highly relevant for automation projects because it reduces the costs of implementing the system (since it is not necessary to use external equipment for signal conversion). When choosing the new module, the user also increases the precision in measuring quantities and reduces the response time.
In addition to measuring voltage and current, as would be allowed by the external converter, the HX6065 module also calculates several quantities derived from the 4 analog voltage or current outputs, such as active and reactive power, frequency, angles between voltage phases, among others. This feature, together with other functionalities of the equipment, allows the product to be used both in generator voltage regulators as in their synchronism with the transmission line and in the measurement of voltage, current and derived quantities. In addition, the presence of analog outputs also makes it possible to use them in general control applications.
Where has the product been used?
Although new, the equipment is already being used in applications by different customers in the electric energy segment. Recently, one of the Brazilians main electricity concessionaires used the Hadron Xtorm RTU with the HX6065 in a set of voltage regulators for generators in two power plants. Another South-American company made use of the module in the control application of a vibration system installed in one of its HPP.