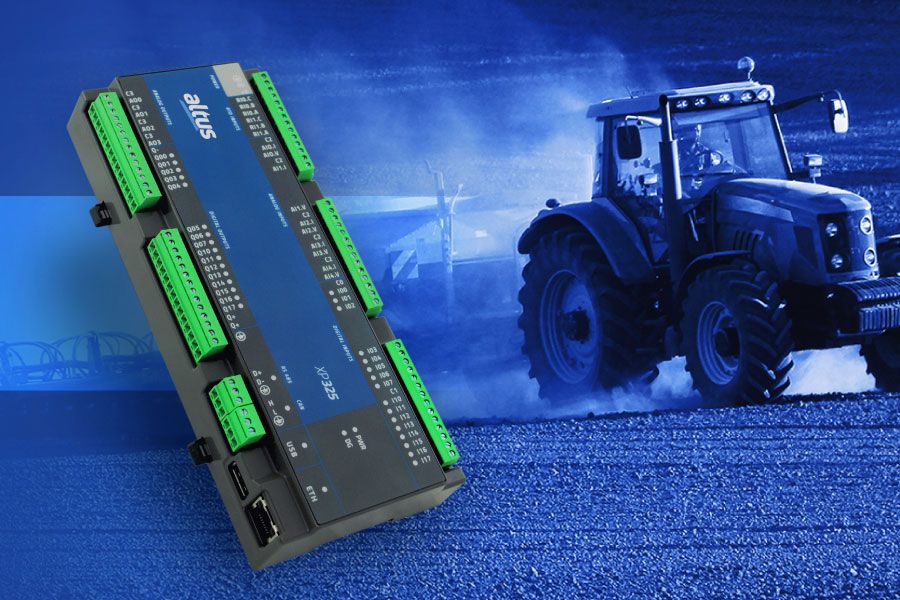 Canadian agribusiness uses CLP Xpress to automate part of its production
19 Jan 2022
It's not an easy task to feed 8 billion hungry mouths with all the calories and nutrients they need. In order to keep meeting the growing demand of food all over the globe, agricultural companies invest in cutting-edge technology to increase the performance of their processes and reduce product losses during the harvest. Following this pattern a company located in British Columbia, Canada, relied on Nexto Xpress technology to automate one distribution line of manure and secure the fully suppling of nutrients to its plantation.
In this project, our partner Softac Systems developed a new control solution for the diesel engine driven pump that pressurizes the flexible line responsible for the correct distribution of compost in the field. Using the technology of the XP340 IoT ready PLC, the solution controls different processes of the engine, including throttle, starting and stopping, shutdown or idle down in critical faults like high coolant temperature, high outlet pressure or when other peripheral sensors indicate critical error.
The designed architecture relies on a XP340 as the core device that monitor sensor inputs including fuel level, input pressure, outlet pressure and flow, digital inputs like volume pulse counter (from flowmeter) and external shutdown sensors on the engine. The Nexto Xpress PLC is directly communicating with the engine via protocol J1939 and using discrete control for hydraulic valves, hydraulic pump and primer pump. Through the WebServer support embedded on the XP340 the operator can easily access the supervision system developed for the application using its own smartphone. The solutions also pushes data to a remote server via MQTT.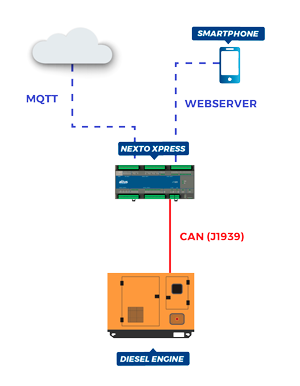 The combination of available communication including standard industrial protocols like MODBUS RTU and TCP, MQTT, J1939 and CANopen allows Nexto Xpress products to be applied in a wide range of applications. Merging this standard industrial automation with IoT and more common protocols in the mobile machine world, the XP340 is a truly all in one device. 
With advanced programming capabilities such as flexibility and simplicity, and due to the several connectivity options available, Xpress allows the integration of automation products in an easy-to-use and simple way. The applied solution allowed the client to remotely control an engine or motor driving a pump, eliminating the need of having a person on the other end responsible for the controlling. It also added full engine diagnostics and process monitoring to the application.