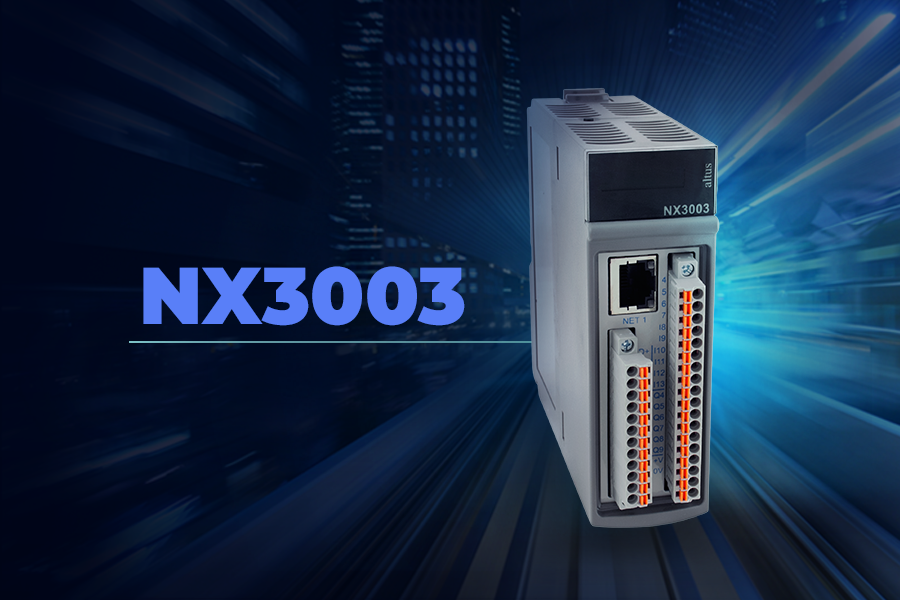 Get to know NX3003, first Nexto Series CPUs with embedded I/O points
09 Jul 2018
Modernizing applications in different segments of the industry for more than five years, Nexto Series products have been in constant improvement and receiving new functionalities. Its remarkable features, such as flexible architecture, rugged structure and higher performance, helped to consolidate the line as a trustworthy and cost effective solution for many kinds of demands. Now, the already complete family of Altus programmable controllers welcomes a new member to qualify even more its offer and widen its reach in the global market of machines and processes.
NX3003 CPU stands out as the best cost effective model for applications with up to 184 points. The processing unit is the first in Nexto Series to count on embedded power supply and I/O points, which enables it to be used as a standalone equipment for control in micro architectures. With 14 digital inputs and 10 digital outputs, the equipment is ideal for building automation, such as access management, lighting and thermic comfort, as well as applications in the textile segment in the areas of warp, water-cooling, reservoir control and pump stations.
With extremely fast response time, close to 4 ms per cycle, NX3003 stands out as the solution with best performance for the machine market. By having 14 digital inputs and 10 transistor outputs, including 4 fast inputs for encoder reading (unidirectional, bidirectional and quadrature) and 4 fast outputs for stepper motors (PTO/PWM), the CPU is capable of performing in architectures for blowers, wrapping machines, baggers, slicing machines, injectors, squeezers, and many other models. Its capability to read and process PID variables also enable the unit to be used in control of positioning, speed, temperature, humidity and other variables used in cooling processes and in atmospheric control chambers.
Wider reach with Nexto Jet modules
In addition to embedded inputs and outputs, NX3003 also counts on bus expansions for up to 10 modules, a resource that matches perfectly with Nexto Jet digital and analog I/O modules solution. By putting together the CPU with Jet modules, the user gets advantages in reach and versatility, with the possibility of using the architecture in larger applications, such as sanitation processes, performing in booster systems, pressure control valves and water pumping stations and sewage, as well as agribusiness, centrifugal control, ovens and irrigation.
Resources inherited from Nexto family
As well as the other controllers of Nexto Series, NX3003 CPU was developed in accordance to the specifications and programming languages stated on IEC 61131-3 international standard. The unit can be connected via Ethernet TCP/IP and RS-485 Serial ports and support to the following protocols: MODBUS RTU, MODBUS TCP, MODBUS RTU/TCP, EtherNet/IP, SNTP, SNMP, OPC DA, OPC UA e MQTT. The model also uses MasterTool IEC XE programming software, standard programming tool for all models of the Series, which is totally free for NX3003.
The new Nexto Series CPU also offers support to communication via radio and satellite through GPRS, 4G and MPLS modems, which allow high accuracy in telemetry systems. Its reading and writing capability in SQL Server databanks make possible its interaction with most ERP software in the market, giving more accuracy to the analysis of scenarios and agility for decision-making. The unit is also capable of performing as a remote head in distributed systems or as a gateway for conversion between MODBUS RTU and MODBUS TCP Protocols.