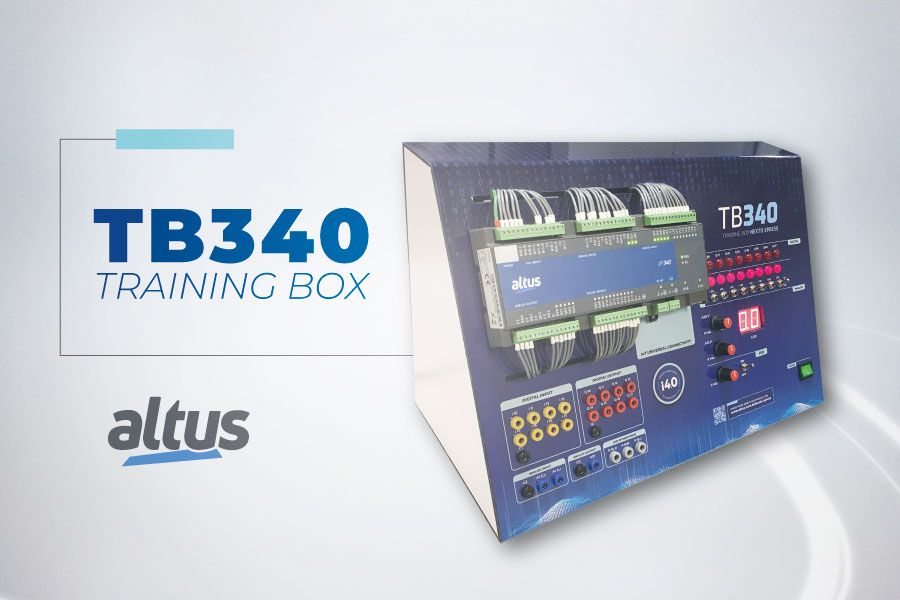 Meet the TB340, Altus` new solution for training and technical qualification
This is a story we have already told several times, but we are not tired, or rather, we are proud to say: education is one of our flags. Since our foundation in 1982, during a postgraduate course at University UFRGS, we have cultivated a deep and intense relationship with the theme.
Throughout our first 38 years of history, we have been involved in different projects to encourage education and technical development for both students and professionals. The delivery of 13 Nexto Xpress PLCs to the practical classes laboratories of a local technical school was one of the most recent actions we have taken in this context. However, in addition to donating equipment, providing courses and sponsoring events, Altus also develops specific products for professionals training and technical qualification.
Your portable lab automation
With features that allow simulations of elements present in the most varied industrial automation systems, Altus Training Box cases are a complete didactic solution for research and training laboratories of companies and educational institutions. Traditionally manufactured with Duo Series PLCs, the family now gains a new member with high technology that allows users to explore the new concepts of Industry 4.0 and Internet of Things (IoT). Meet the TB340, Training Box model with embedded Nexto Xpress PLC.
The solution has as its central unit a XP340 programmable controller, high-speed PLC with elevated connectivity level. The most advanced model in the Nexto Xpress line, has an Ethernet port supporting several protocols, such as MODBUS TCP, EtherNet/IP Scanner, IEC 104, OPC DA, OPC UA and MQTT, USB port with Wifi adapter for developing IoT applications, CAN interface for CANopen communications or proprietary protocols and RS-485 serial channel with MODBUS RTU. The controller also has support for Web Server, a tool that allows the creation of supervision and monitoring screens application without the need of a SCADA software.
In addition to the PLC Xpress, the case has terminals for connecting digital inputs and outputs with LEDs for status indication, for analog voltage and current outputs, and also for analog inputs in voltage and current scale, RTD and potentiometer. The resource also has a digital voltmeter for indicating the status of the analog output and a dedicated circuit that allows simulations of control and disturbance in PID loops.
Simulation capability even without the case
The Training Box TB340 uses MasterTool IEC XE software, a free programming software for Nexto Series controllers. Including a modern and customizable interface, the tool offers 06 programming languages (LD, FBD, ST, IL, SFC and CFC) described by the IEC 61131-3 standard and has online and offline simulation resources that do not require the use of PLC for development and application testing/simulating. This functionality allows students and professionals to practice and perform simulations even when they are not in possession of the case and/or product.
Want to know more about the new Training Box Nexto Xpress? Talk to our sales team through the following e-mail: sales@altus.com.br.